What is Thrive Local OC?
One website in a network of community centric directory websites that supports small businesses in Orange County.
.Thrive Local Orange County is consumer driven, community  focused social website focused on locally owned businesses.
Thrive Local OC is passionate about supporting locally owned and operated businesses in Orange County.
Thrive Local OC, a comprehensive business directory that connects residents with the vibrant local businesses in our communities. With targeted online visibility and tailored marketing strategies, 'Thrive Local OC' empowers these businesses to thrive and succeed in the digital landscape, while also fostering a strong sense of community and supporting the local economy.
Together, let's bring the spotlight to our incredible local businesses and help them reach new heights of success!"
We bring out the best in your OC City for you!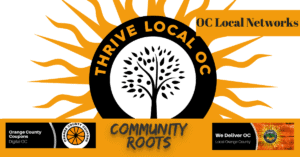 Thrive Local OC is a local search tool that lists important information about local Orange County business, such as addresses, photos, video, contact details, and Google reviews. Allowing people to find the goods and services they need in their city.
Each business listing has easy to locate reviews streaming from Google to allow customers to find the best local places in a variety of categories such as beauty salons, shops, professional services, restaurants, entertainment, retail, fitness, automotive services, repair services, building and construction, B2B companies, and more.
You will find the best locally owned businesses in your town with Thrive Local OC's directory. There are lists of restaurants, dentists,  gyms and much more. If you're looking for professional services, you can find landscapers, contractors, electricians, and plumbers.
Thrive Local OC was created specifically to support locally owned independent businesses owners and encourage local buying that strengthens our thriving community by raising awareness about the economic, environmental and community benefits of shopping, dinning and buying from local small business owners!
Thinking Local First!
When you shop at a local independently owned business:
68% of every dollar gets reinvested in the community.
Local chains, 43% reinvested.